Fitness On Purpose
Fitness expert Mitzi Dulan, RD recommends exercise to release endorphins which increase productivity, focus, and decision-making throughout your day. Oxygen and protective hormones released through exercise can even help prevent degenerative brain diseases such as Alzheimer's.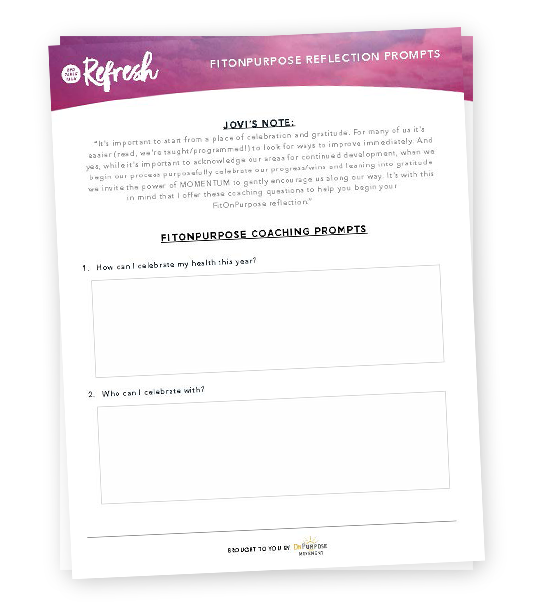 FIT ONPURPOSE REFLECTION PROMPTS Exercise
START WHERE YOU ARE
You only need to raise your heart rate for 15 – 20 minutes to get the essential metabolic, mental, and emotional benefits of exercise. It can be simple! Take a walk, do jumping jacks, do the wobble, use a yoga video from the internet, or do some core strengthening exercises like lunges, push-ups, or crunches to get moving.
DO WHAT MAKES YOU HAPPY
Fitness routines are worthless if we don't like them enough to ultimately do them! So, if you love to dance, try a zumba class. Or if nature inspires you, take up hiking. Exercise is personal, so match your routine to your interests. Remember – you're doing this so you can be healthy enough to live out your purpose. #FitOnPurpose
PROGRESS > PERFECTION
You may not feel at your best, or be motivated to give it your all, but if you consistently show up for your body, then your body will show up for you. A little exercise every day will reduce stress, increase mental health, and bring greater relaxation.
EVERY DAY IS A NEW START
Give up the pursuit of perfection! If you miss a day, come back the next. Give yourself grace by setting reasonable minimums: "I will run in place at least five minutes today." Every minute helps to oxygenate your body and brain.
Reflection Questions
How did you feel getting at least 15 minutes of exercise per day?
Did you find an exercise routine you loved? Were you more likely to do it?
How did you feel when you prioritized persistence over perfection in your exercise routine? What did it feel like in your body? How did you feel emotionally?
How did the sense of starting over each day impact your ability to come back to your exercise routine?