Getting Started On Purpose
Finding your unique reason for being in the world will add depth and meaning to your life. If you're just starting to explore your purpose or if you've been living OnPurpose for some time now, you'll find ideas to help you awaken and live a more purposeful life by reflecting on what:

1. YOU LOVE
What excites you most? What is the thing that you just have to do? Our passions are personal – they uniquely belong to us.

They are the things that return to our mind, time and time again. And they are the things that bring us joy and appear in our lives even in the most unsuspecting places.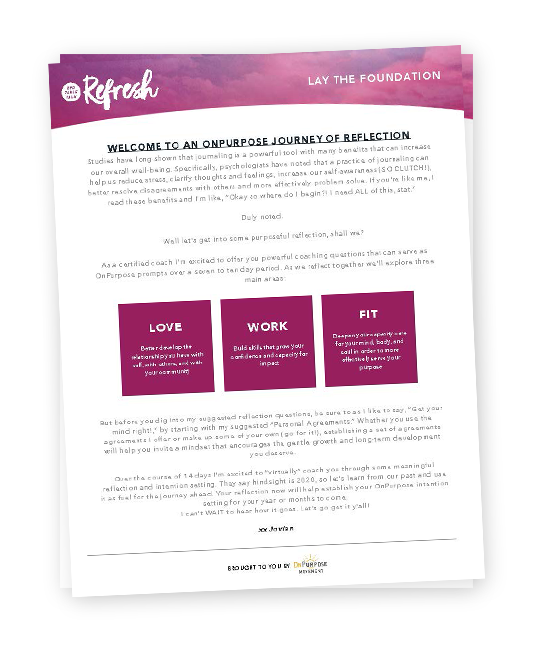 Lay the
Foundation Exercise
2. YOU ARE GREAT AT
What are your natural strengths? Are you a natural conversationalist? Are you great at bringing people together around a cause? Could you write a haiku for any occasion? Discover your unique set of skills and strengths and you will be closer to finding your unique purpose. Checkout Strengths Finder 2.0.
3. YOU (CAN) GET PAID TO DO
Steve Jobs said "the only way to do great work is to love what you do. If you haven't found it yet, keep looking. Don't settle." The world is ripe with opportunity for you to claim your right work – the work you would do without pay, the work you would still do even if it didn't bear fruit, and the work you WANT to do regardless of the context. Take a minute to brainstorm all of these things and you'll be closer to finding your OnPurpose work.
4. THE WORLD NEEDS
When you look out into the world, what avenues of service do you see? Where are you compelled to add your unique value? There is something the world is waiting for you to share – find your unique place to contribute and take one step towards sharing your gifts with the world.
Reflection Questions:
Who will be better because of your efforts?
Who do you feel most compelled to serve?